Smart Road Infrastructure Solutions
Metrosmart International's design philosophy revolves around innovative, economical and sustainable solutions to engineering problems. The street pole and road infrastructure of tomorrow needs to incorporate clever structural designs to minimise the use of materials, thus reducing the economic costs, the time to construct and the environmental impact. At Metrosmart International, we achieve this outcome through the use of the latest technologies and innovative designs incorporating such things as light weight materials and nanotechnologies.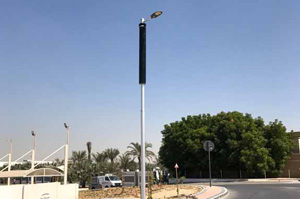 Solar Poles

Banner Poles

Tapered Light Poles

Utility Poles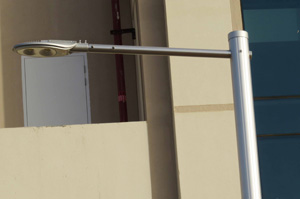 Street Lighting Multifunction

Street Lighting Decorative

Pedestrian Lighting

Universal Light Arms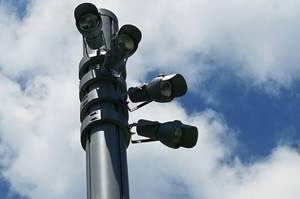 CCTV & Security

Street Furniture

Accessories
MSI produces aesthetic aluminium CCTV and security poles designed to accommodate a range of CCTV and security equipment. The strength and structure of the structural marine grade aluminium provide the stability needed for CCTV operation. Being based on our passive-safe poles, the poles can carry additional applications such as signage.
A range of CCTV support arms enables cameras to be located at any position on the poles. Hatches for access to the poles are secured by a screw making access to the electronics close to impossible without a special tool.
Using our passive-safe pole system, our poles provide a cost effective alternative to steel and timber poles.
Proprietary cross arms can be attached or an aluminium insulated arm can be provided. Due to being all aluminium, the poles are one third the weight of their steel equivalent giving advantages from an OH&S perspective, ease of installation, and long life.
In addition being light weight should they be struck by a vehicle causing the base to shear, the poles in certain circumstances will remain upright suspended by the power cables until emergency services arrive.
Due to expansion of the light pole business, which included standard tapered and decorative poles, Metro-smart was established in 2012 as a separate entity to concentrate on multi-function light poles and solar poles. The new generation of multi-function pole that is 100% aluminium.
MSI Poles has a range of aluminum poles and accessories to support all applications required in today's urban environment. This extends from street light poles to CCTV and security poles, Power poles and Solar poles, to tapered decorative poles and street furniture.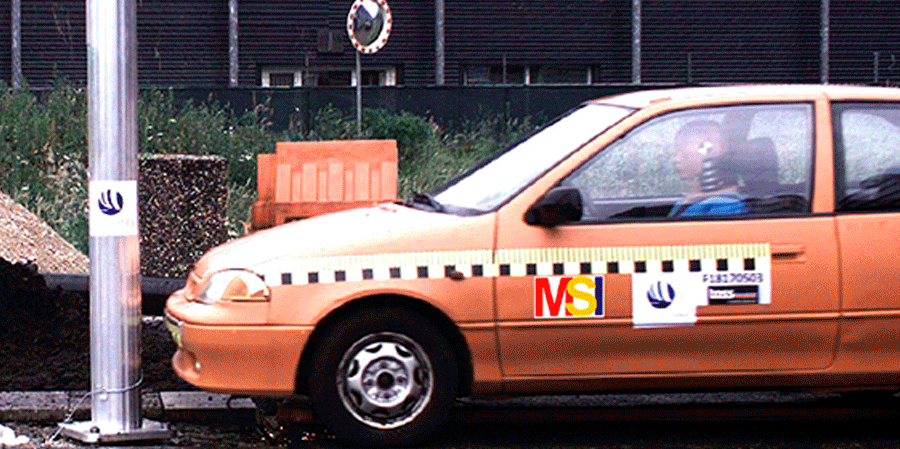 100/KPH CRASH TEST WITH SUZUKI SWIFT WITH NO DAMAGE TO THE DRIVER COMPARTMENT OR ROOF – POLE 12M NEO CLASSIC ALUMINIUM POLE BY METRO SMART INTERNATIONAL
MSI has been awarded EU Certification after successful crash test with its family of Passive- Safe Neo Classic Poles from 3 meters to 12 meters and in addition won approval from Ashghal for the same poles. MSI with Hydro manufacturing the poles is the only  company manufacturing all aluminum passive safe poles with this range of certification and approval worldwide.
Aluminium light poles illuminate red street in Al Bidda Park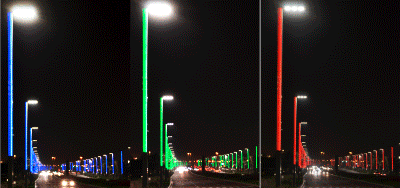 Extraordinary Smart City light poles, made of aluminium, are part of one of the most prestigious projects in Qatar.
Square aluminum profiles on both sides of the pole feature a decorative plate with laser-cut out patterns.
Remote-controlled RGB LED lamps glow in the desired color through the Arabic motif.
The decorative light poles are located along the asphalted 'red road' in the Al Bidda Park in Doha.MSI  with its strategic partners Hydro developed  the outstanding aluminum light pole which leads to the Emir's Diwan Palace.
By means of automated roadblocks the red street can be transformed into a pedestrian area during events. Therefore the Al Bidda light poles of Metrosmart International LLC will shine at the fan zone during the World Cup football in 2022.
Metrosmart International LLC has successfully tendered for numerous projects with the Qatar Foundation in Doha Qatar with agreements to supply Education City and MSI is tendering for other projects in Doha, Abu Dhabi, Dubai, Singapore, Oman and various countries in Africa having already delivered. About 700 poles in to Zanzibar
Metrosmart & Hydro are a team of International professionals with extensive experience in all facets of aluminum streel light pole design and manufacture, including Smartcity, Smart Solar, bespoke lighting structures and Passive Safe pole solutions.
Please consult Metrosmart International LLC for road infrastructure street furniture for the Middle East region Asia Pacific region and the Continent of Africa
Crash Test videos of MSI HYDRO  Pole Products.